The swin golf
Leisure time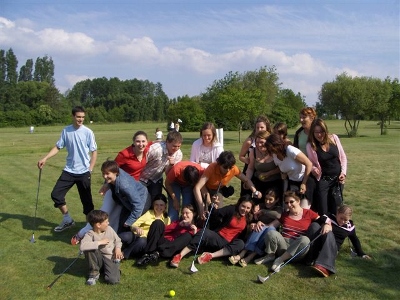 Let's discover the swin golf which is a great entertainment !
Young and older people can try it in a natural atmosphere.
Playing  swin golf is both a walk in the countryside and a game you can enjoy..
Let's adopt the swin golf spirit!
Come as you are in comfortable clothes and shoes (sneakers are advised however)
You will rent a club and a tee.
You will buy your own flashy ball (orange, yellow, pink…) that can be kept as a souvenir.
Let's go!
Only 20 minutes are necessary to be taught the rules by our cool and nice trainers and then you will be able to have fun and enjoy yourselves on the 18-hole field.
This is an afternoon you can share with your friends, family, relatives or colleagues.
This is the swin golf spirit!
The Rules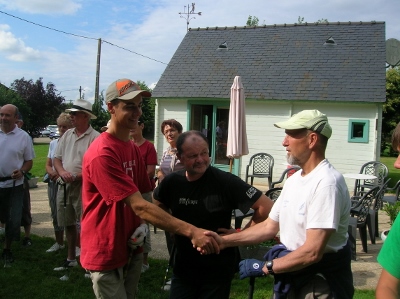 You will play a very easy and cheap game.
You will use only one multi face club.
Each face has its function:
The drive (a long hit)
The approach (an in-between hit)
The putting (a precise hit)
The swin golf ball is not dangerous: it is made of foam rubber which is good for children and beginners.
The movement looks like the one you do when you play real golf or video games.
Nevertheless a ball can be hit up to 100 metres in less than 8 seconds (better than Usain bolt!);
The hole is 30- centimetre wide so 3 times bigger than the golf hole.
Individual game: you use your own ball and try to do as few hits as you can
Team game: each player uses his own ball and then you choose the best one. You all hit from this ball. This game is appreciated both by  beginners and by groups.
You start from the white colour if you are an expert male player.
you start from the blue colour if you are a male beginner or an expert female player.
You start from the red colour if you are a female beginner.
You start from the orange colour if you are a child or a disabled person.
Around the Swin Golf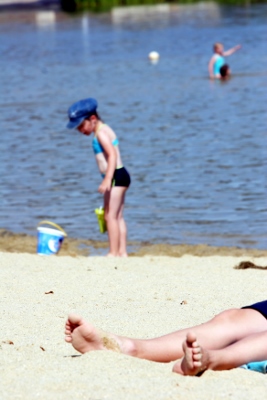 Next to the acre park, you can rent canoes, pedal boats, bikes, play minigolf, find toilets and showers, read touristic information, have a drink or a snack, book a chalet or a camping place.
Entertainment is all around the Chesnaie lake close to the swin golf and the small village of StDenis du Maine.
If you want to fish in this 11 hectare-lake you must have a federal fishing licence. You can get one through the internet.
If you want to ride a boke  or have a walk, there is a 45 minute-walk through the beautiful village of st denis du Maine or another one to Meslay du Maine, which goes all along the swin golf from the lake.
This place is a paradise for children with lots of games, a beach, a bowls field…
This is the place where to relax!
The swin golf school
« because you never play the same hit twice you have to know the technique »
You can be taught by our graduated trainers Gregoire Parmentier and Sébastien Dubois whenever you wish. They are very good teachers and will be pleased to show you.
Let's call and book!
The swin golf school is open to teenagers aged 8 to 15 on Wednesdays from 2:30 to 4:30pm
Please be so kind as to respect the following rules :
Please  respect our game partners as well as the other players you can meet.
Please  respect the field, don't touch the plants, fill in the holes you may have dug.
Please respect the clubs you have been given.
Take the time to enjoy  at your partners'company and game and above all to enjoy yourselves.
Let's laugh, let's congratulate, let's play!
More informations :
---